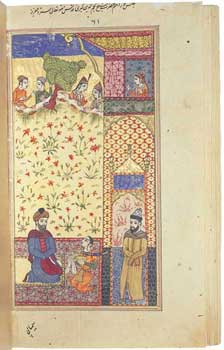 Nour alddin Abdol alrahman Jami:
He was born in Jam in khorasan (East) in 1396. He leant the literature of Farsi & Arabic from his father when he was a child. Then went with him to Herat. After finished his learning in there went to Samarghand. In this city he composed & became famous.
He went to become a famous Gnostic & at last succeeded .He went to Mecca in 1456 when he was 60. Then he went to Baghdad, Najaf, Medina, Mecca, Sham, Medina & returned to Herat again. He also has been in Halab & Tabriz.
His books are: Salaman AND Ebsal, Tohfat alahrar, Baharestan, Lavayeh, Kheradname Eskandari, Laili and Majnoon, Nafahat alons etc.